The best things about Summer are the long and bright days filled with joy, happiness, and a buoyant lifestyle. The sandy beaches, sunbaths while reading inspirational lifestyle magazines, delicious fresh berries straight from the garden… Should we even mention the warm evenings, with the most exquisite sunsets, and the possibility to wear dresses all day, every day? Be it Maxi ones, with puffy sleeves, petite ones, with wide collars, or any other – the range of cotton summer dresses is so vast! All in pretty, visually awakening, and spirit-lifting colors and various patterns.
Today we would like to introduce you to our Floral Line, of which we are very proud, and we believe it to be the most perfect cotton summer dresses line for the warm season! Our Floral Line consists of quite a few cotton summer dresses, but we have selected the favorite ones (even though we love them all). But first, we will emphasize the features of the Floral Line and why we are so in love with it.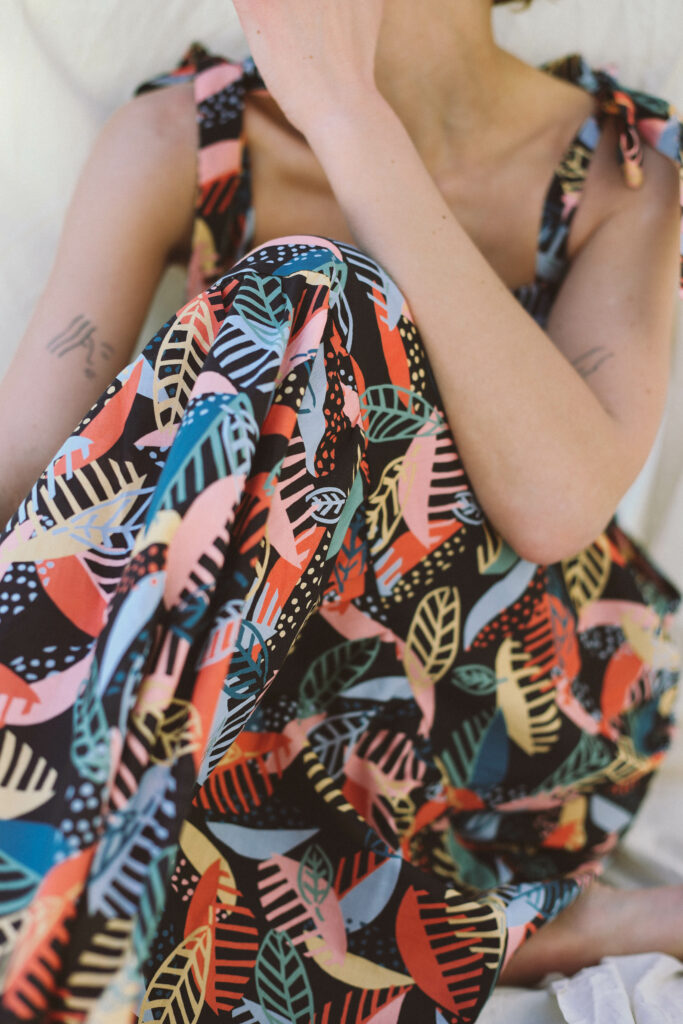 The uniqueness of our Floral Line
The magnificence of a dress undoubtedly hides in a girl that wears it. But also in its silhouette, color, and the fabric that the dress is made of. All dresses of our Floral Line are made of the iconic and high-quality Tana Lawn Cotton, distinctive of its silky feel and soft touch to the skin. Also, it is durable, has an intense depth of color, has cooling and warming properties, and is machine washable. The Tana Lawn Cotton was discovered by Liberty (Fabrics company) buyer William Hayes Dorell in the 1920s while traveling in East Africa. He found intriguing cotton fibers close to Lake Tana, which later were spun into glossy form, screen printed with radiant ink, and turned into a material that was named Tana Lawn. Today we are glad to have the opportunity to use this great fabric as the primary material for our Floral line of cotton summer dresses.
Our ultimate list of Floral Line Favorites
Aubrey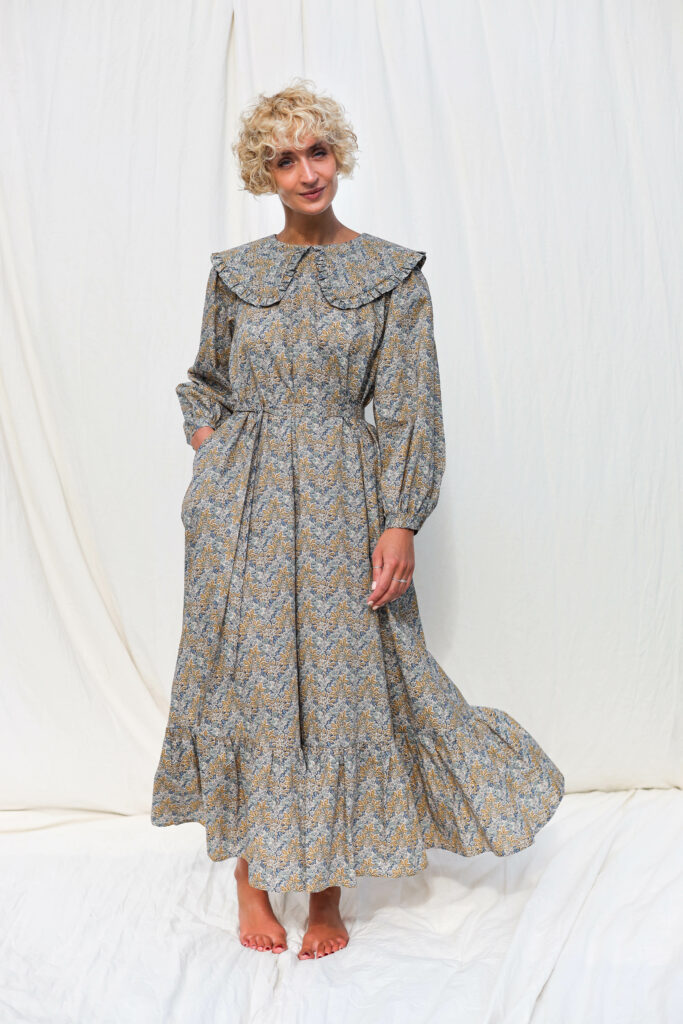 We start our favorites list with Aubrey. Aubrey has a beautiful personality. The A-line dress has a maxi silhouette; it is airy and incredibly light, with a massive yet elegant collar. It should attract the attention of those looking for a modern but romantic, noticeable but not too loud maxi dress.
Swedish Meadow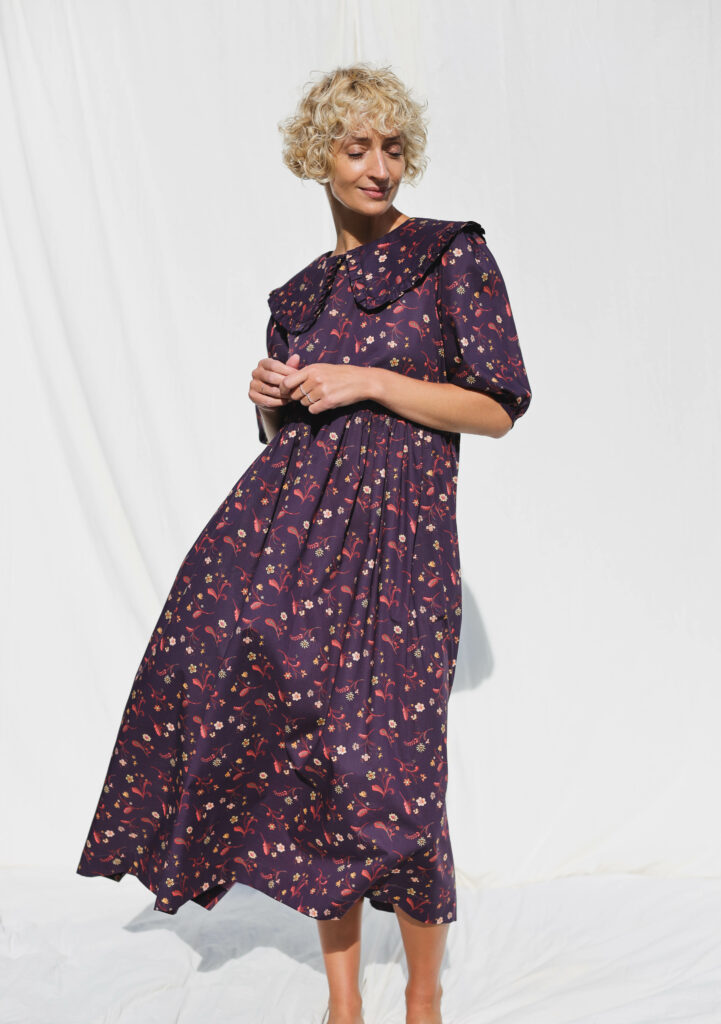 Swedish Meadow emphasizes everything that Summer is about. It is made of beautiful floral organic Tana Lawn cotton, has a puritan collar, a loose silhouette, and the puffy sleeves that we love so much! Select the Swedish Meadow for your Summer soirees and cozy picnics. We imagine it would look stunning combined with a Mediterranean-style vowed handbag full of wildflowers, natural orange wine, and crisp croissants.
Bloom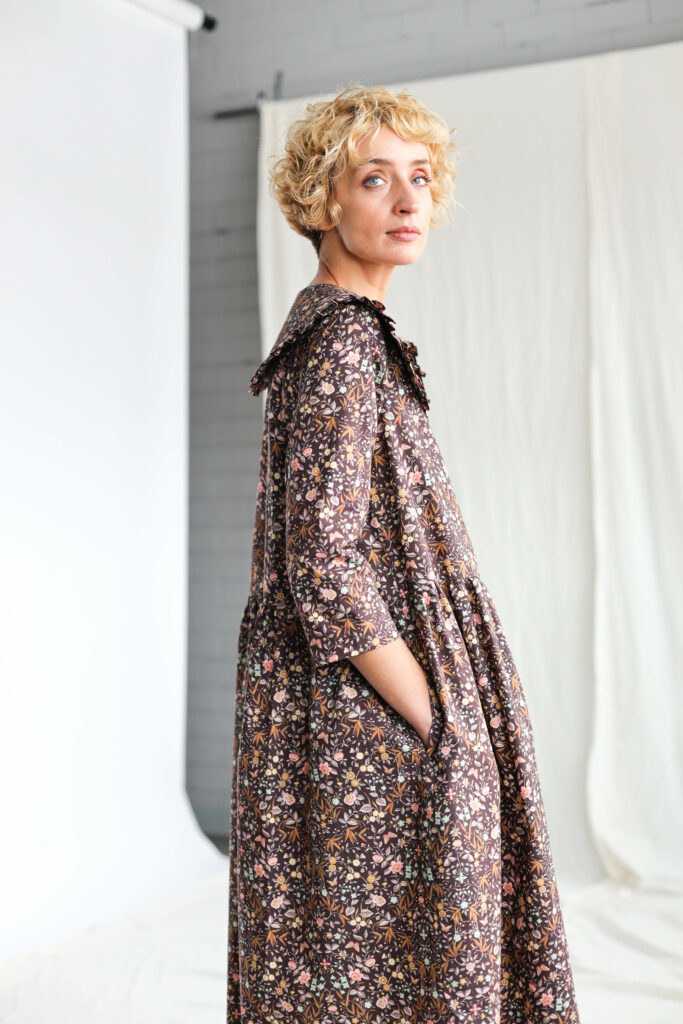 We believe your soul will bloom as the most exquisite flower all summer long wearing the Bloom! Designed as an airy everyday dress made of Liberty Picadilly poplin cotton, it perfectly fits all mothers-to-be. The spacious body of the dress allows you to feel comfy and effortless in it, creating it a perfect daily uniform.
Nana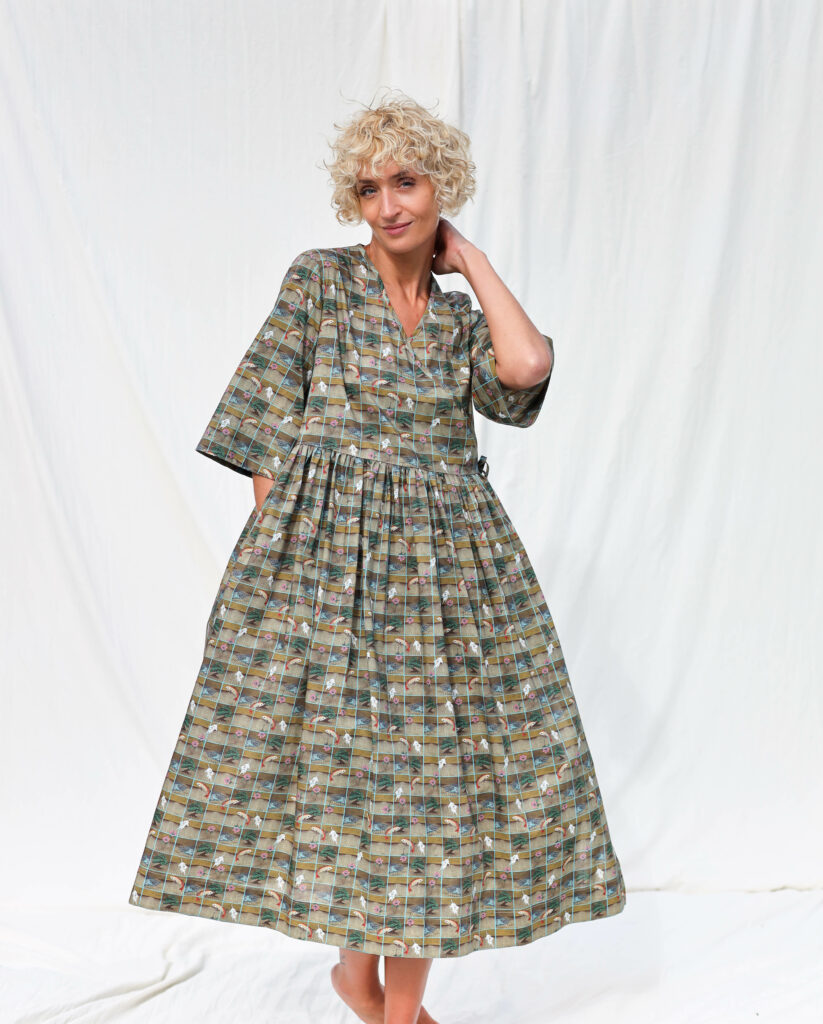 Nana's beauty lies in its simplicity — its sharp lines and a minimalistic shape. Yet, the dress has a few exceptional features – a kimono-style top and a beautiful Koi fish pattern that the dress is made of. Nana's potential is best revealed in everyday situations when comfort and modest aesthetics are the most needed.
Sophia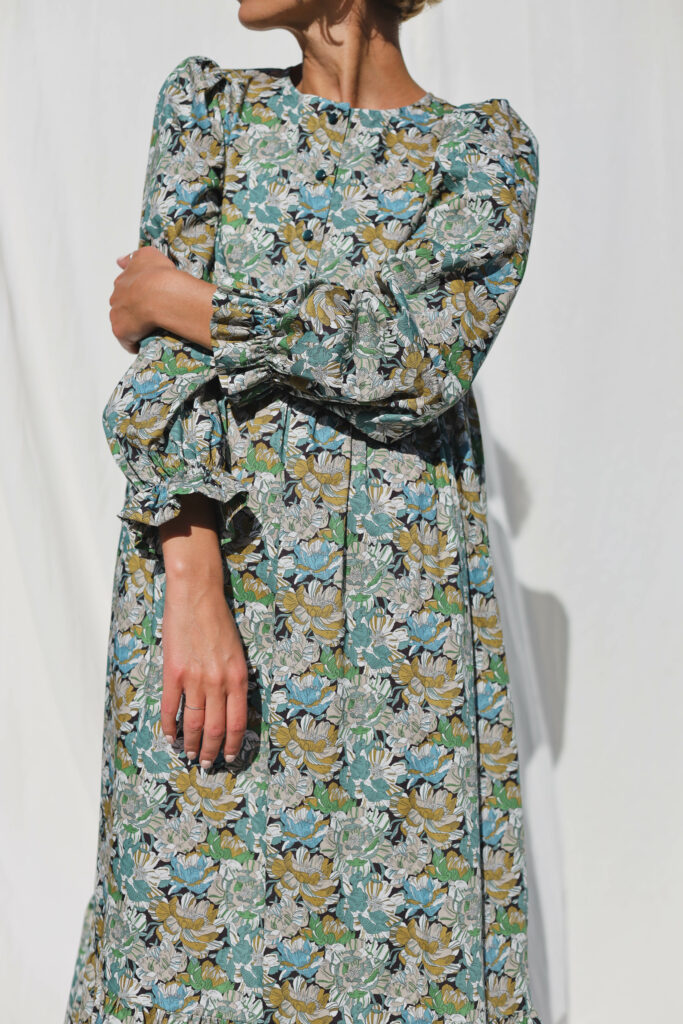 When we say more, we mean MORE! Sophia is definitely the dress that likes to be in the center of attention. Yet, it is unpretentious and has a relaxed bohemian vibe. The most exceptional detail of the dress is its very puffy and airy sleeves that create spectacular volume. The dress is buttoned at the front and has a nostalgic Floral pattern.
Pier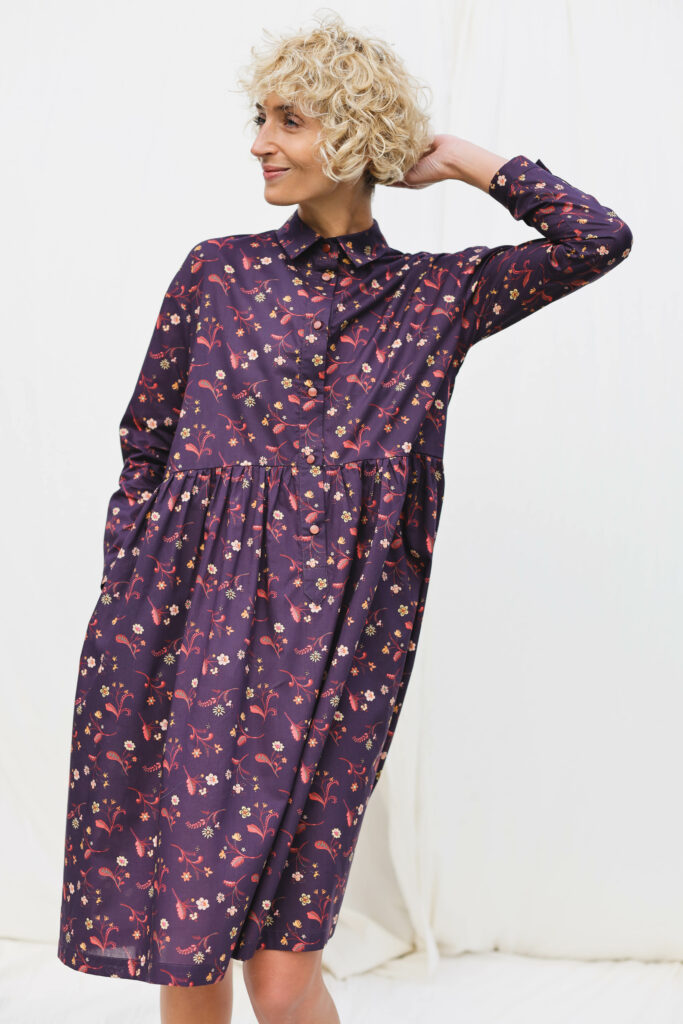 Pier is a shirtdress that has dual styles. The dress's silhouette is classy, referring to an elegant shirt, but the Floral pattern softens the dress, resulting in an exciting and unusual combination. We imagine Pier should make a perfect colder summer look combined with chunky leather loafers.
Daze and Millie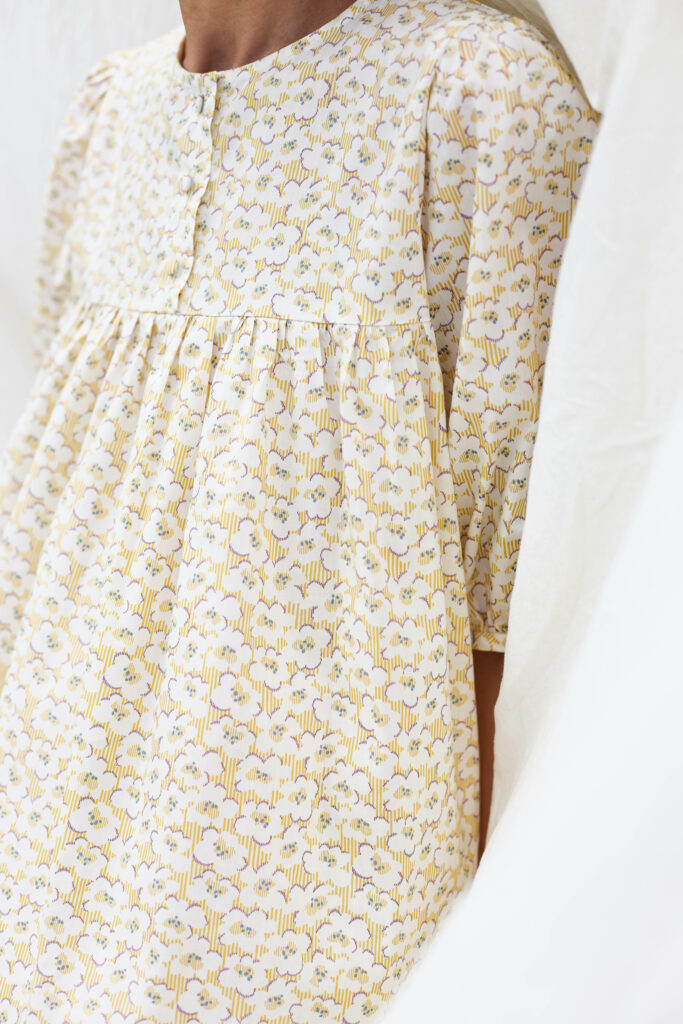 Daze and Millie are petite mini dresses made in the same design but have different Floral patterns. Yet, both are made of organic Tana Lawn cotton and have elbow-length puffy sleeves. For us, they embody soft romance and feminine retro nostalgia. Daze and Millie are perfect for a lovely day at the beach or an afternoon in the city exploring the artisan boutiques and slowly sipping the coffee on the go. Choose one of them, wear it with leather sandals, and flavor it with a distinctive hair accessory or a handbag. Summer must be memorable!
Felda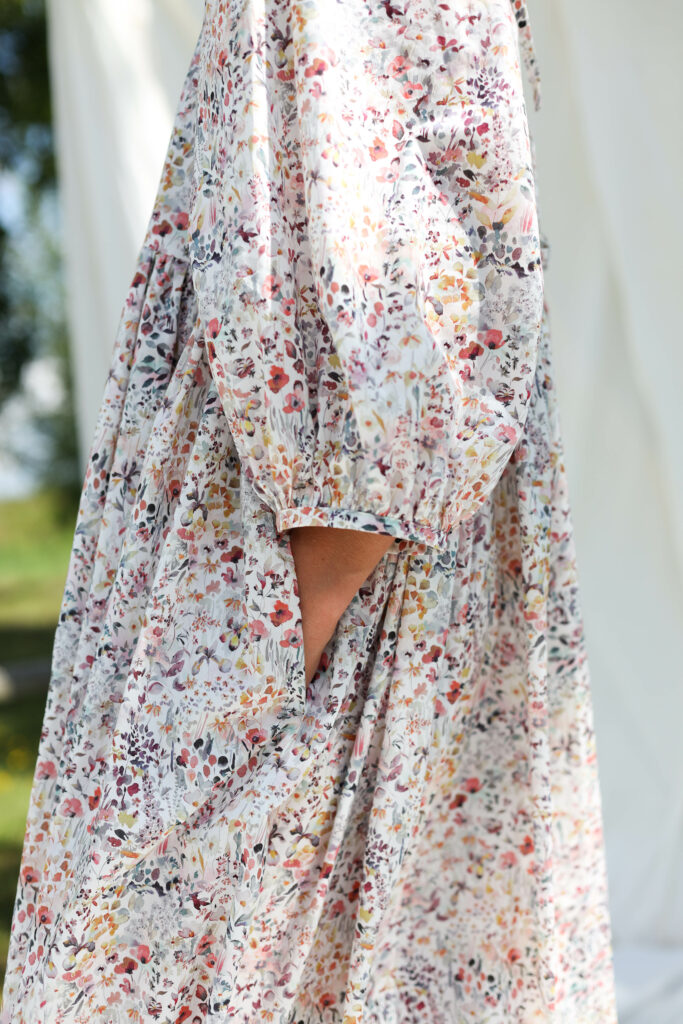 We created Felda for the loveliest everyday moments! Be it the date with your best friend, family holiday or just another fabulous day in the city. The dress has an airy shape and is made of lightweight organic cotton. But most importantly, you can wear it on both sides. Wearing this dress, you are definitely going to feel extra special!