I N T R O D U C T I O N
At OFFON, we have two different sizing conventions (XXS-XXL and DOUBLE SIZE) for different style garments. Also we use your body measurements to recommend the correct size in each of our conventions. This page is your guide to using all the tools we have available to help you select the best size.
D O U B L E  S I Z I N G
Our double sizing conversion XXS/XS, S/M, L/XL, XXL or XXS, XS, S/M, L/XL, XXL  is used for oversized fit garments. For example one our favorite Linen kimono-style jacket. Although, this sizing is still fairly flexible and many women can wear two different sizes comfortably. We recommend that the best size to choose in those styles are on how much drape you prefer and if you want garment to be less loose, we recommend to choose one size down.
XXS-XX L  S I Z I N G
Our XXS-XXL sizing are used for relaxed, regular and more fitted garments.
C U S T O M   S I Z E
All our items are listed as made-to-order, they all can be made in a custom size.
M E A S U R E M E N T  I N S T R U C T I O N S
To use our size chart, you will need to obtain your body measurements. Then, locate your measurements on our chart and  see which  sizes are recommended for you. Measure around the fullest part of your bust wearing a bra (if you normally wear one), measure around the narrowest part of your waist (this should be right around your belly button), and measure around the fullest part of your hips (this is different on everybody, you want the largest measurement whether that's around your seat or the top of your thighs). You should do this with only undergarments on.
T H E S E   A R E   O U R   B O D Y   M E A S U R E M E N T   G U I D E S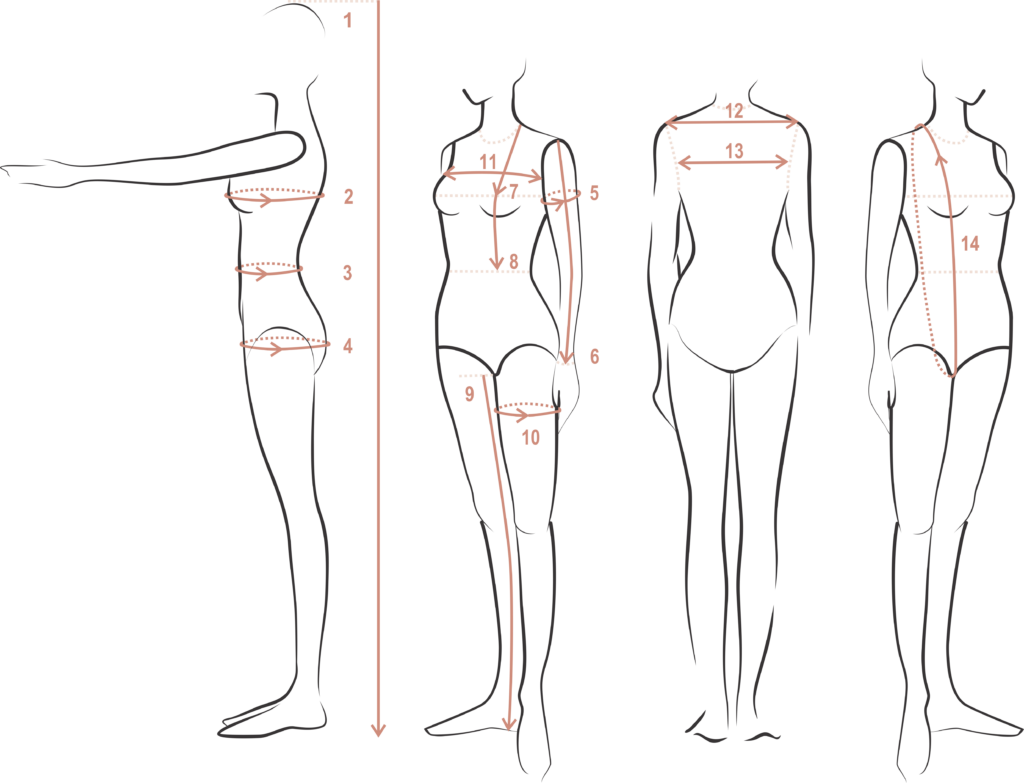 Height
Bust
Waist
Hips
Biceps – the fleshiest part of upper arm
Arm length
Length from the highest shoulder point down to bust point
Length from the highest shoulder point down to bust and than to waistline
Leg length – inseam, from crotch to the floor
The widest part of the thigh
Front width
Shoulder width
Back width
Torso – from the high point of the shoulder down to the bust than through the legs and back up to shoulder
G A R M E N T  M E A S U R E M E N T S
We have garment measurements listed on each product page! Please note, that garment measurements refer to the garment itself and are taken flat, so you'll need to double them when necessary. All measurements are approximate and may vary slightly due to the handmade nature of clothing and differences in the measuring process. The best way to use garment measurements is to compare them to items you already own.
I F  Y O U  N E E D  H E L P
If you are not sure about the size and fit – just email us at [email protected]. We will be more than happy to help you!