At OFFON, we love Summer. It is the most sensuous, the most charming, and loveliest season of them all. It is the time when we feel most happy, accessible, and connected to nature. And for the girls of our family, Summer is definitely the season of linen dresses. We strongly believe that if you have a few dresses, you really like and feel yourself wearing them, you do not need any other clothes. Linen dresses are so versatile that you can wear them anytime and anywhere. They are lovely for garden picnics. They are irreplaceable for slow days at home. They are so comfy for sipping a chai latte in your favorite cafe. Oh, and they are quintessential for the summer holidays somewhere in rural Italy or France. And could you imagine a more perfect outfit than a romantic linen wedding dress for a small and cozy wedding ceremony?
We created the summer guide of linen dresses to give you some valuable information that we hope will help you choose the right dress. In the guide, you will find tips on how to style the dresses and where to wear them. We know that it might be difficult to select items you will truly love and wear for a long time, especially if you like to keep a relatively small capsule wardrobe and own only a few essential and long-lasting pieces. But before drawing into our main five categories of linen dresses, let us tell you a bit about linen fabric itself.
Linen as the most versatile fabric
The best thing about linen is its incredible versatility. In our opinion, there is no other fabric like linen that would go so well on any occasion. Linen is as beautiful for lounging at home as it is for a special occasion. You can wear a linen dress on the beach feeling easy and comfy, or you can wear the same linen dress, just adding a pair of heels or a silk hair accessory and feeling the chicest in the city. Will you agree that there is something magical about that raw and imperfect texture that linen fabric has? Not to mention all the other good qualities of this beautiful natural fabric.
Absorbency and thermoregulation – that keep our bodies cooler on warm days. Strength – linen being the second strongest fabric after silk. Comfort – being a natural fabric, it is so effortless to wear it. Overall, linen is such great material!
So here we are, representing the five main categories: apron dresses, linen maxi dresses, plus size dresses, button-up dresses, and linen wedding dresses.
Apron linen dresses
Inspired by a gardener's and a cook's uniforms, our apron dresses are minimalist, with crossed shoulder straps in the back and two pockets on the sides. Although we have only one model of apron dresses, it is available in forty-two various linens – dusty rose, sage green, or light chestnut being our favorite for this Summer. You can style apron dresses with a simple t-shirt, sleeveless top, or wear it alone on the tanned skin. We recommend apron dresses for a casual lifestyle – in a home garden, for biking, or cooking in the spacious kitchen with widely opened windows facing a beautiful home courtyard.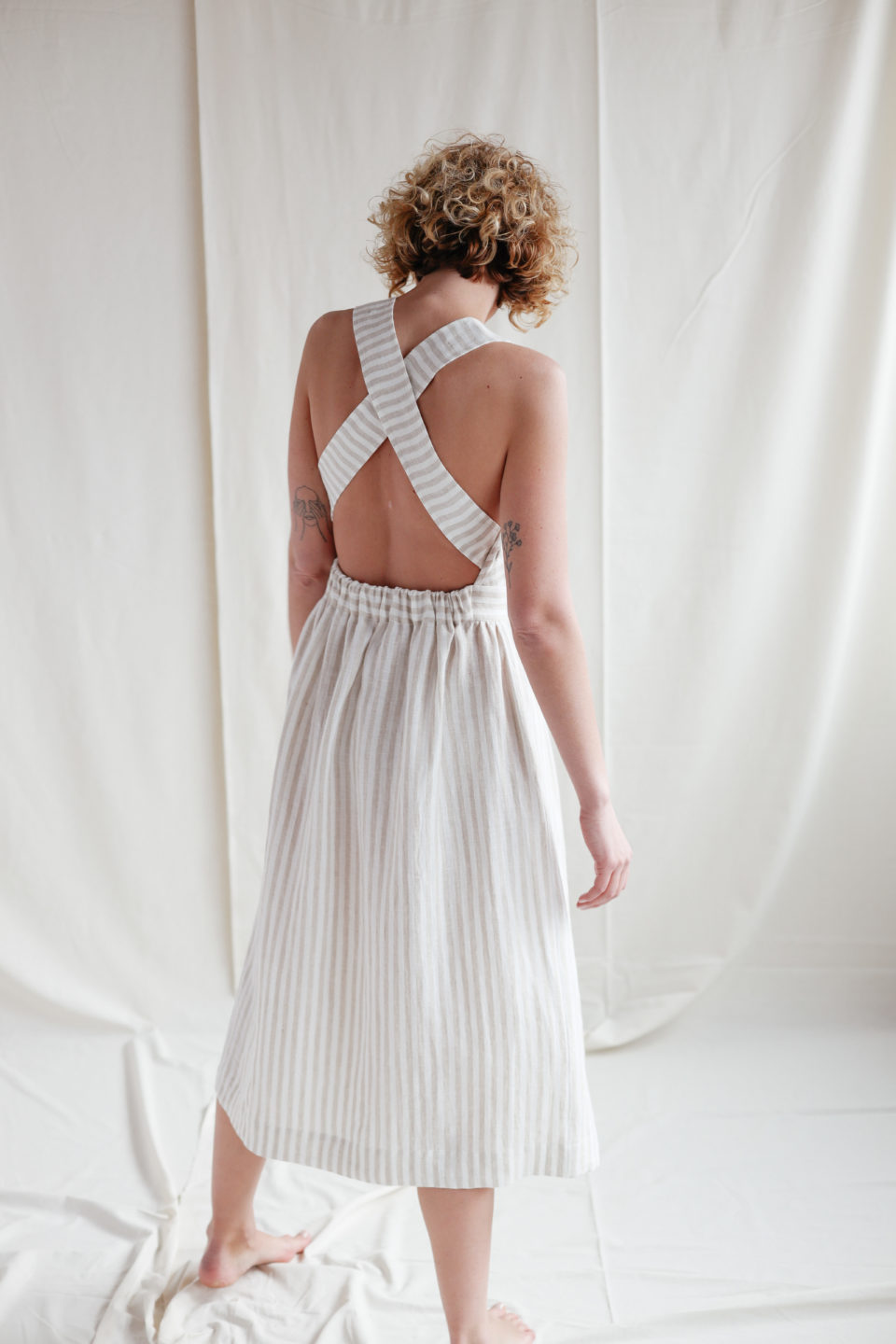 Linen wedding dresses
If you plan a small and cozy wedding ceremony and look for a modest dress of silent luxury, we think you should choose a white (or any other color) simplistic linen dress. Keep in mind that wedding linen dresses will never overshadow your personality and natural beauty. You will also feel light, comfy, accessible, and yet very romantic and feminine wearing it. Add some wildflowers to your hair to create an even more romantic look. We can already picture it in our minds what a pretty bride you will make!
Linen maxi dresses
Linen maxi dresses are an irreplaceable option for the summer holidays. You wonder why? First of all, you need only one linen maxi dress to make the whole look (in this way you save the space in your suitcase). Secondly, you can cover your legs from too much sun and undoubtedly wear a swimming suit underneath. Linen maxi dresses look fabulous with vowed accessories such as hats or beach bags, daytime and evening. And the good news is that linen maxi dresses suit all types of bodies – you just need to select your personal favorite.
Plus-size linen dresses
Our plus-size dresses are created for women with fuller and rounder body shapes. If you already chose the plus-size linen dress you like, be sure – they will be comfy to wear and will deliver feminine and chic looks. We create plus-size linen dresses in loose-fit silhouettes to lie beautifully on your feminine shapes. The dresses with V neck will focus on your beautiful neck and decollete, and the oversized long-sleeved shirt dresses can be paired with linen pants or leggings.
Button up linen dresses
Button up linen dresses are to-go dresses for women who spend time in the city. They are fabulous for meeting friends for a cup of coffee. They are comfy and yet elegant for office life as well as for time with kids and family. Also, the button-up linen dresses can be worn as tops in combination with linen pants or your favorite jeans. You will find a wide selection of such dresses at our shop, available in different linens and colors.
We hope you enjoyed our guide on linen dresses! If you have any concerns or questions, just contact us, and we will be glad to select the best-fitted linen dresses for you!