When it comes to daily dressing, linen tops are one of those elements that, we believe, every woman should consider including in their wardrobe. At OffOn, we like to say that linen tops for women are the new cotton tops! Like any other tops, they serve as a foundation for everyday dressing, and without them, we would never be able to build a complete look unless we wear a dress. But that does not count!
As you perhaps know, our collection of linen tops is quite elaborate — oversized blouses, blouses with wide collars or V necks, the cropped ones or with the puffy sleeves, the shirts of elegant and classy silhouettes or more casual ones with the buttons up or Peter Pan collars. The selection is very, very wide. However, one crucial aspect that unites them is that they are all made of natural and high-quality linen. They are long-lasting and excellent in a simplistic and timeless design. And while we live in a world of fast trends, there are such wardrobe elements that will last a lifetime. The linen tops for women are one of them. Therefore, we have decided to prepare this guide of essential linen tops, which we would like to believe will guarantee that there's always something to wear.
Thus, this is our guide of favorite linen tops that, we believe, are the must-haves for city lifestyles.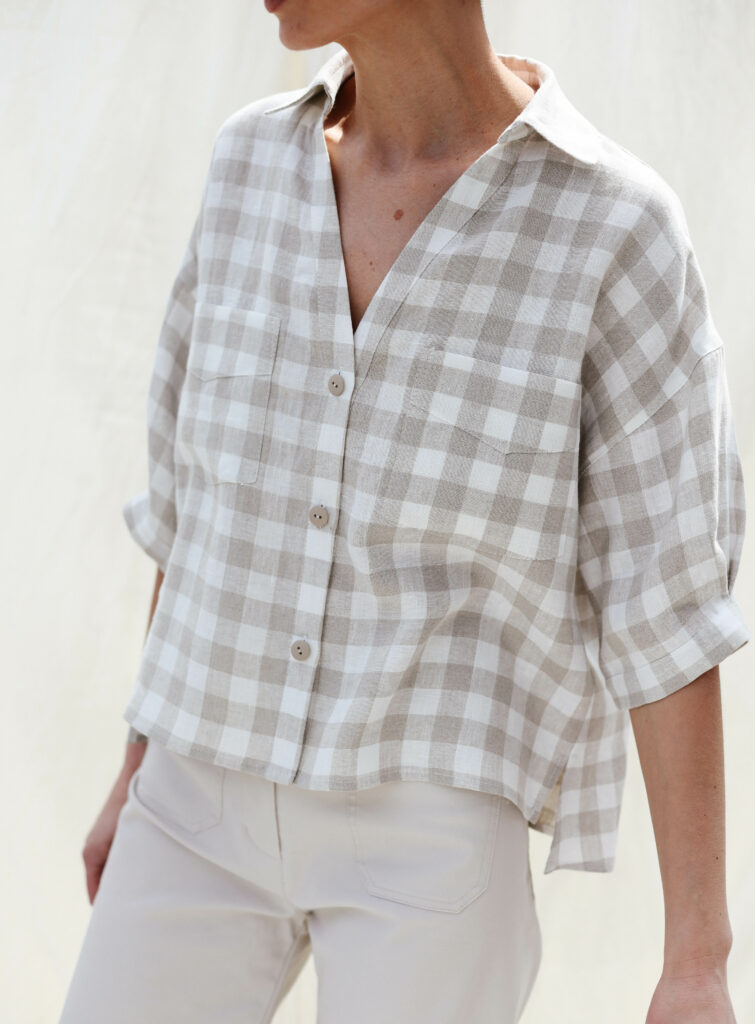 A classic linen shirt.
A classic linen shirt is one of the most versatile pieces in a year-round wardrobe. Especially if it's in a milk-white, sky blue, soft beige, or cement grey color. Such a classy silhouette shirt borrowed from a man's wardrobe can easily be used in almost all life's scenarios — worn in the city, the office, the farmer's market, a Summer party, or even the beach. The possibilities of styling a classic and timeless linen shirt are endless.
One of our favorite ways to wear a linen shirt is an ultimate classic uniform — in combination with a pair of vintage Levis (or any other) jeans. This look is so so fabulous! Imagine yourself wearing it, just adding your favorite jewelry and heels to complement the look. And you are ready for a night of dancing under the open sky!
If you want to style an office look, the most amazing a linen shirt looks when combined with wide-leg wool pants, a minimalistic pearl necklace, or a mini silk scarf, adding a quality wool blazer or a cashmere cardigan on top of your shoulders. Trust us, wearing this, you are ready for a successful and I-am-feeling-good day!
And the last look, which might even be the most creative, is dressing a linen blouse on top of the lightweight wool or cashmere turtleneck. Have you ever tried it?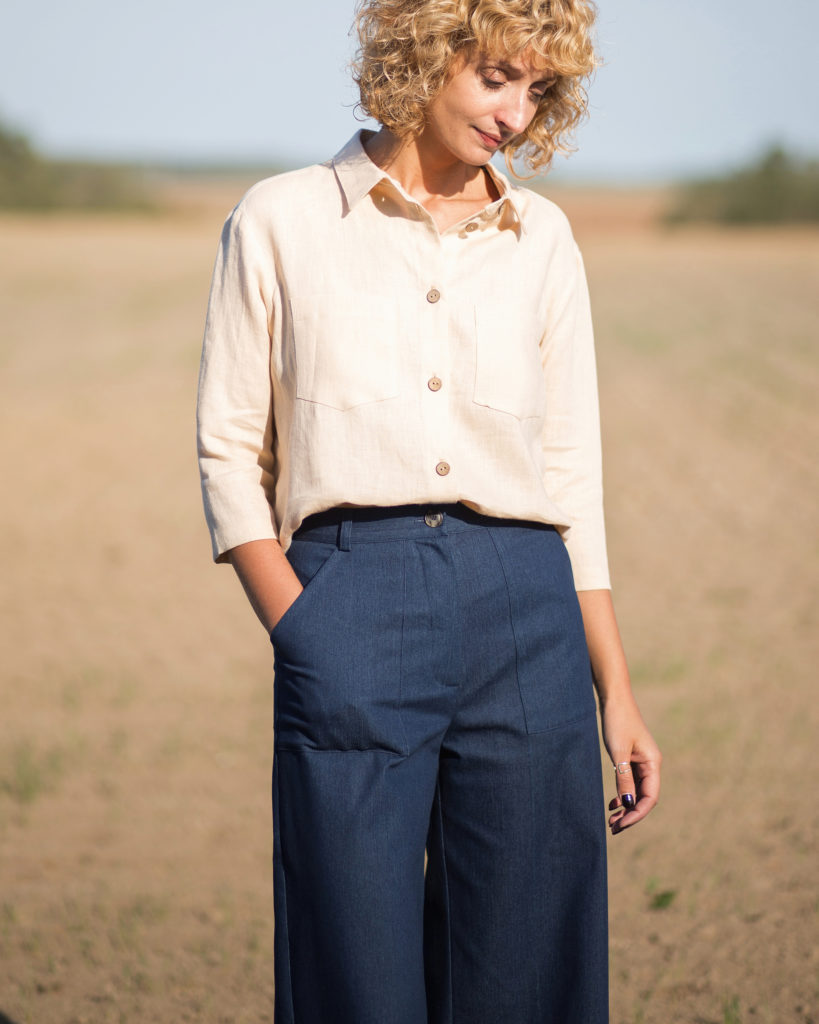 A bold linen blouse.
You are the ultimate essentialist? Most of your clothes are in monochromic shades? But sometimes, you feel like you would like to add something bolder to your outfit that would serve as an eye-catcher? We think you should consider getting yourself a natural mood booster — a vivid purple, bright blue, or fresh green linen blouse! In this way, you will boost your look without some significant changes, and what is most important — you will still be able to use that linen blouse many more times! Its silhouette might be a little bit more than you are used to, but it does not compromise the quality or functionality.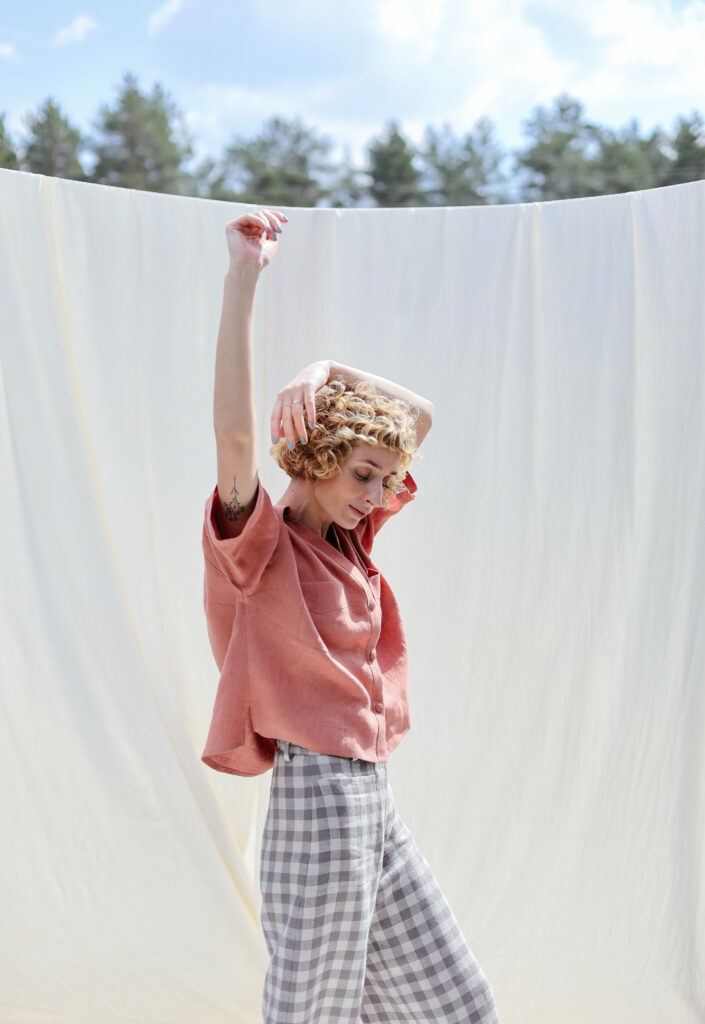 Women who love to dress whimsically should like the blouses with puffy sleeves or Peter Pan collars. The fantastic thing is that they fit a variety of bottoms — cotton or linen pants, mini, midi, or maxi skirts, as well as vintage jeans or shorts — just make sure that you match the color shades.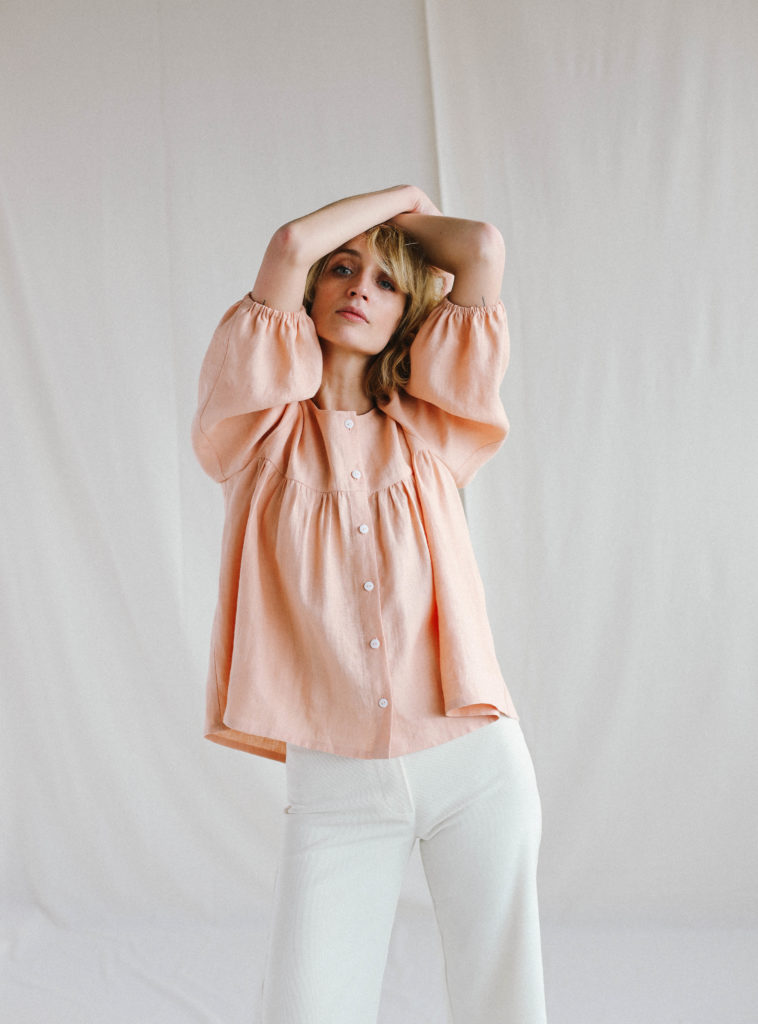 And those who appreciate clean, minimalistic looks but want some spice in their outfits should consider one of our current favorite color methods of color matching. It combines clothes of the same color but of just slightly different shades. So the black linen blouse with a wide collar will look lovely when paired with checkered cotton pants.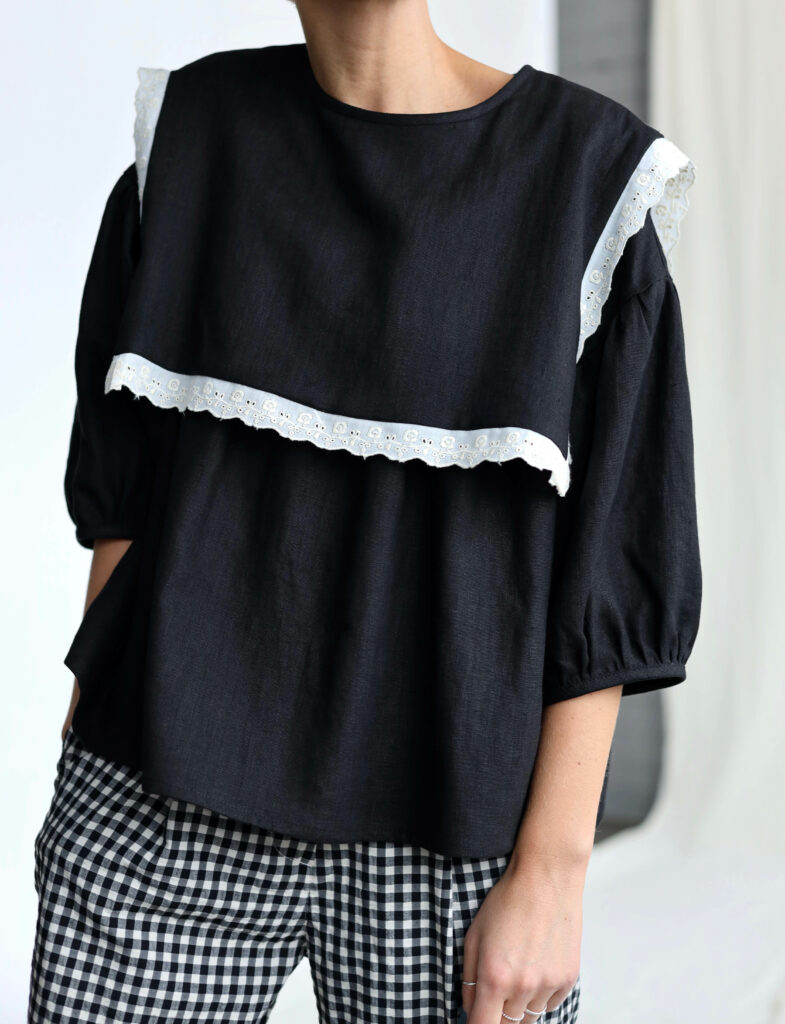 A casual linen blouse.
In our day-to-day routines, we seek conformity and practicality. And with that comes casual and effortless dressing. We want to feel good and comfortable in our everyday uniforms, especially when our workday schedules are full and days in the city are dynamic! In such a scenario comes a casual linen blouse that is a real lifetime savior! You can select among sleeveless or cropped linen blouses, the linen blouses with V neck, or the buttons up. The variety is wide as we, at OffOn, are so fond of chic casual dressing ourselves.
The casual linen blouse is that kind of blouse that you never get tired of because of its timeless look and calm color shade. It literally fits everything and everywhere — work, city, home, grocery store, kindergarten, cinema, garden, holiday… This is the kind of linen blouse you need for your closet! All you need to do is pick the style that fits your body shape best.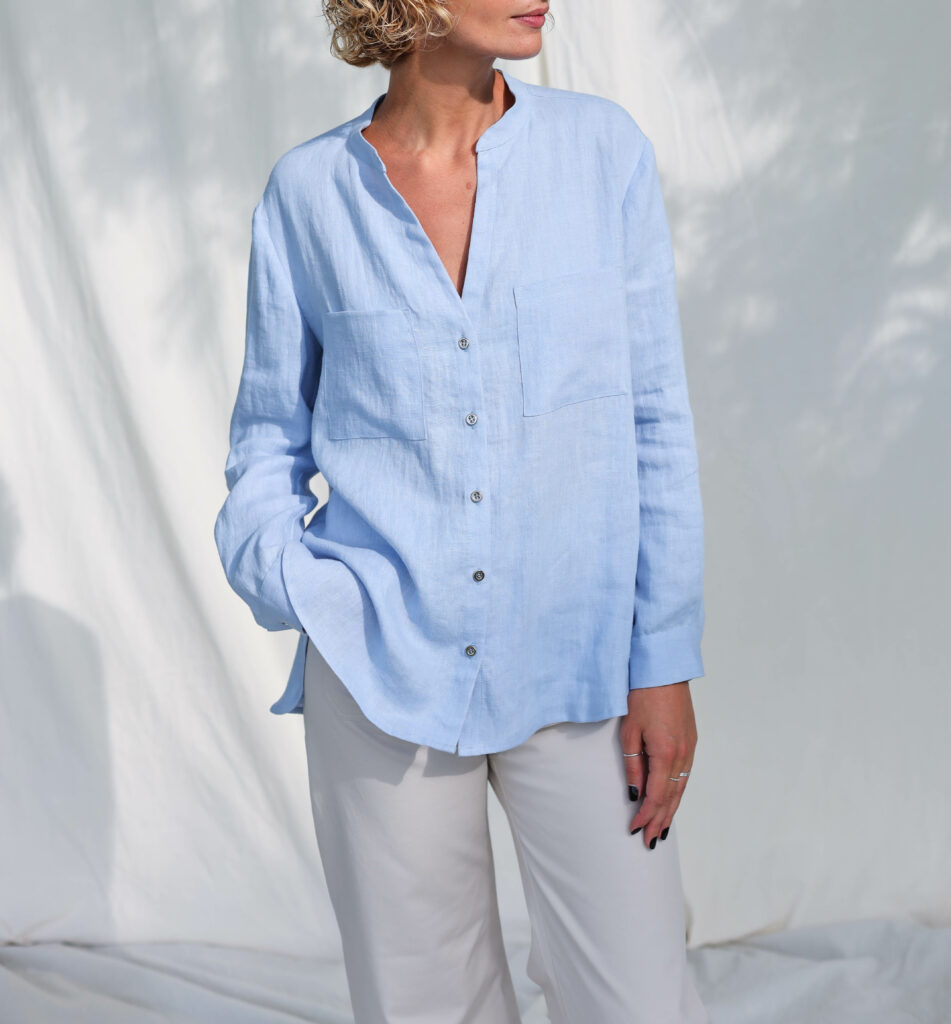 In general, it's good to remember that we tend to change tops a little more often, so we recommend being a little more courageous and experimenting when choosing a shirt or a blouse. After all, a fashion game should be fun and imaginative!