If we time-traveled back to mid 19th century, we will find trousers for women synonym for freedom. At that time, women wore trousers not as mere clothing but rather as an expression of the women's rights movement. Trousers for women were no longer an attribute of man dressing; on the contrary, more and more feminine wardrobes were unlocking for this particular type of clothing.
Although sometimes we still mention trousers for women as something borrowed from a man's closet, we think nowadays they belong as much to women as men. And as much as we love dresses, we hardly imagine our life without this extraordinary and essential element of modern dressing! You would hardly find a woman who does not have at least a few pairs of trousers. Even the biggest romanticists could not survive without them. Because if they are not flattering, then for sure they are practical. Just as daily bread!
At OffOn, we divide our selection of trousers for women into two categories – the ones made from linen and cotton. Linen trousers tend to fit warmer seasons, while cotton trousers are more versatile and adaptive. However, not many comprehend the potential of a perfectly fitting pair of linen trousers – in our opinion, it is just a perfect piece for trans-seasonal dressing! But let us talk about it a bit later.
LINEN TROUSERS
When choosing linen trousers, spending more time and researching your best fit is essential. Because linen is that type of material that is not stretchy, that's why fit and size matter. But after you are done with your research and know what fits your shape best, you will be surprised by how striking and effortlessly wearable linen trousers are! And the best thing about them is how different they can look depending on their model. You can easily create a boho look, the Mediterranean feel-inspired outfit, or even a sharp office attire – all you need to do is play a fabric matching game.
High Waist Linen Culottes
High-waisted trousers have always been known as a magic wardrobe element that helps visually to extend the legs. So, if you have a crush on high waist linen culottes, we recommend wearing them with cropped or shorter tops and knitwear. The purpose of a high waist is to show your legs and hips beautifully without covering them with long cardigans or tunics. You will find the high high waist linen culottes in a checkered pattern and forty-two different colors at our shop. We advise you to wear this particular model of high waist linen culottes with monochromatic tops made from linen, cotton, or wool in colder seasons. And last but not least, we will reveal to you our little secret. The checkered linen high waist culottes fit perfectly for trans-seasonal dressing! Miss-match them with your vegan fur coat and a wool barrette – trust us, you will look fabulous!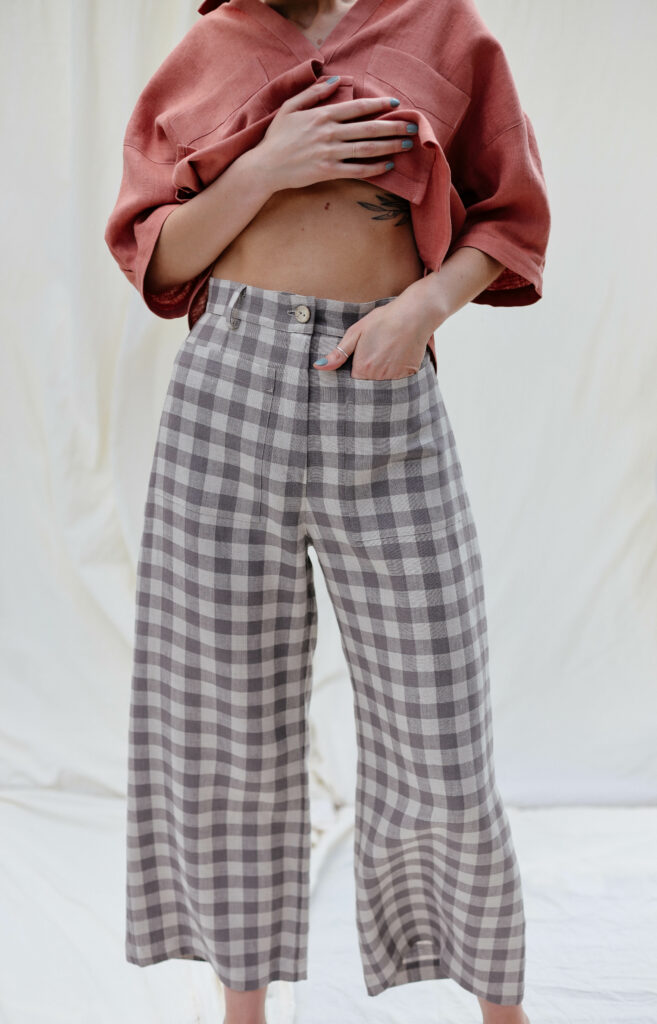 Wide Leg Linen Culottes
Amazingly, wide leg linen culottes fit for various body shapes! Frankly, we are very fond of this particular model, which is why we have a little broader selection than others. Among the monochromatic wide leg linen culottes (which you can choose in quite a range of colors), you will also find them in checks or stripes. Wide leg culottes are perfect for traveling because they look good when wrinkled, and most importantly, they are very lightweight – so you can easily pack a couple of pairs and still have enough suitcase space for the souvenirs.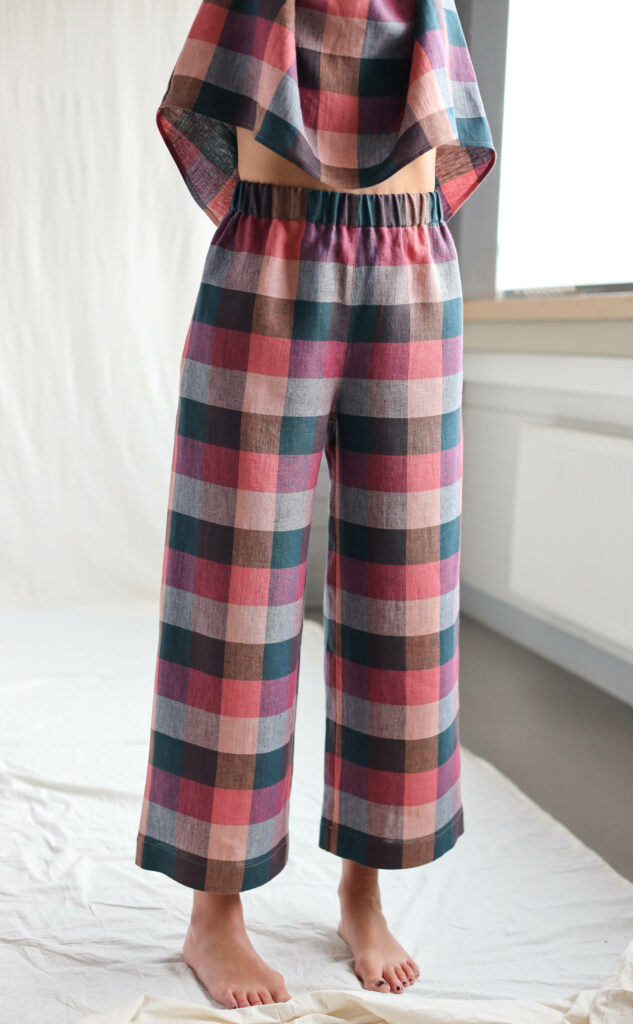 Pleated Linen Palazzo Trousers
If you need something fancy but also something effortless, pleated linen palazzo trousers it is! Best looking with a classic linen blazer, you can also wear them with a sleeveless top or a classic linen shirt. Although the Palazzo model fits the tall women better, we will make sure to make them according to your unique measurements and special requests.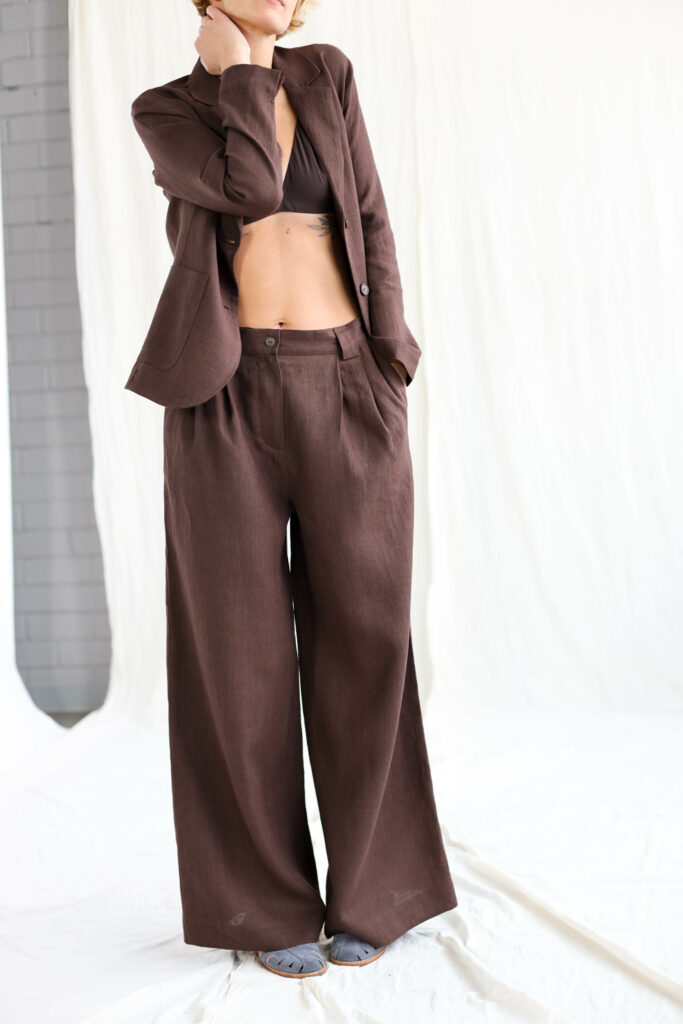 COTTON TROUSERS
Cotton is one of the most favorable materials when it comes to trousers. Perhaps because of its visual versatility and the comfortable feel. At OffOn, the selection of cotton trousers is not very broad, but we believe we have got you covered with all the essentials. Cotton trousers are a wardrobe element that goes with all the seasons and occasions. Thus, the styling and wearing possibilities are endless!
Needlecord Culottes & Trousers
Perhaps you will agree that Needlecord is an ultimate classic and never goes out of fashion. If you are looking for an alternative for your favorite jeans, we strongly recommend considering the needlecord culottes or trousers. For us, the Needlecord is a synonym to golden Autumn days, when the weather is slowly getting colder, but it is warm enough to scroll the local farmers' markets wearing just a blazer and a pair of needlecord culottes.
Tencel Palazzo Elasticated Waist Pants LOU
Our collections are significant in airy and soft aesthetics. However, tencel palazzo pants belong to the conceptual and bold wardrobe elements camp. Yet, it keeps the clean lines and minimalist approach. Wear them when you want to look sharp and chic in unforgettable moments.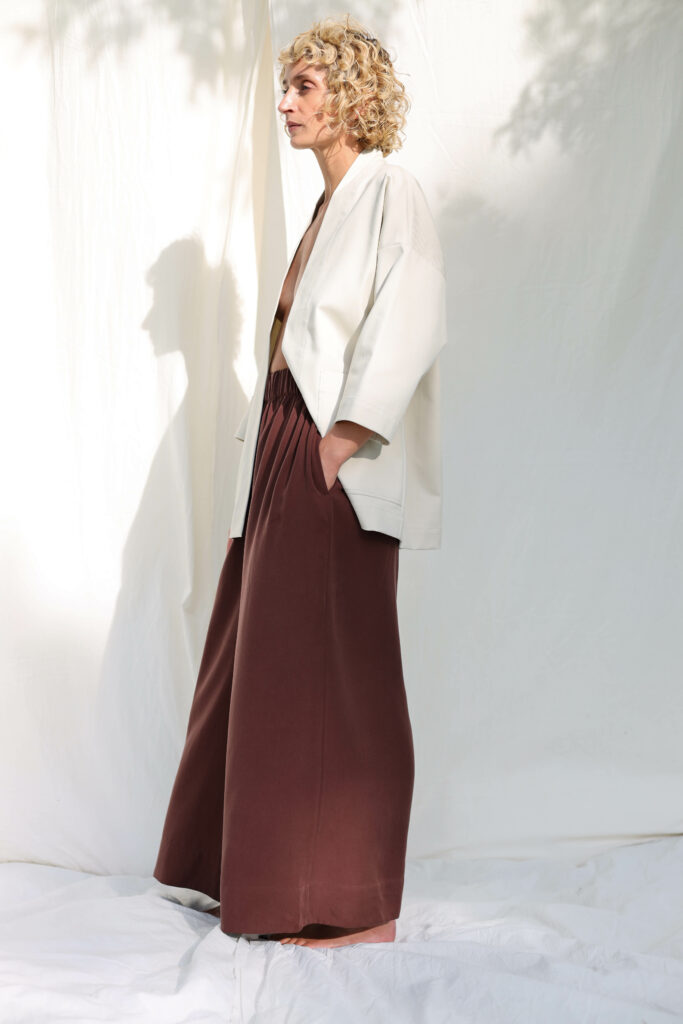 Denim Vintage Culottes
Inspired by retro fashion and dating back to the hip 70s, denim vintage culottes will become a natural choice for your everyday rituals. Wear them when biking to the grocery store, posting a letter, taking a stroll in a park, or meeting your best friend for a cup of coffee in that newly opened coffee shop!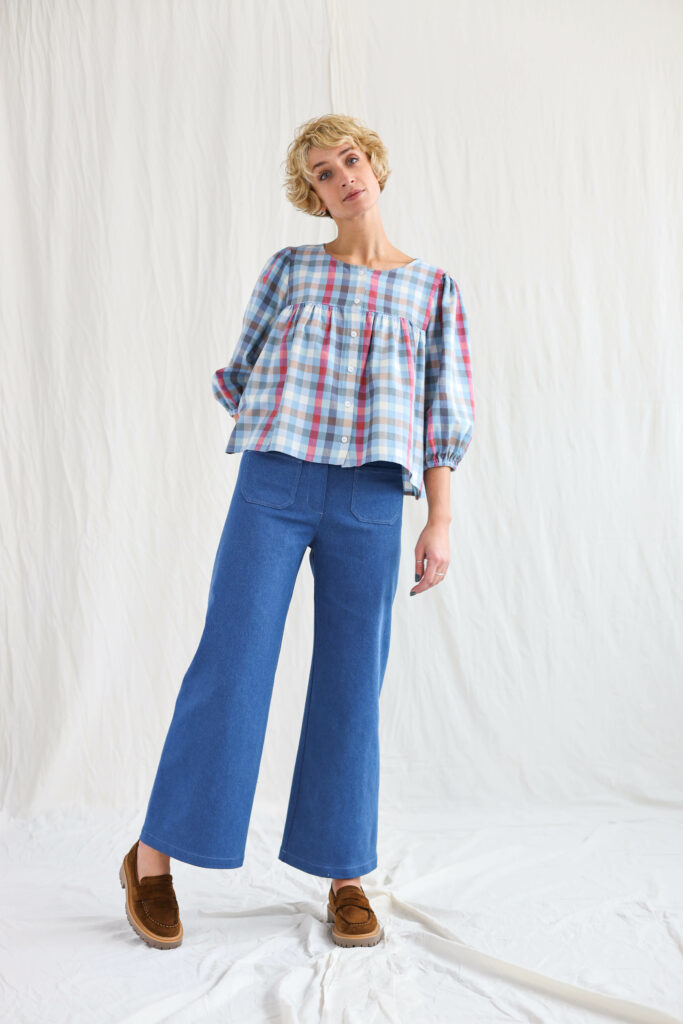 Gingham Boxy Boyfriend Trousers
If you are looking for the comfiest casual trousers, you should absolutely consider the boxy boyfriend trousers design. The best thing about this model is its stylish but classy checks pattern and its roomy silhouette, giving freedom to move and feel effortlessly cozy. They look lovely when rolled up and styled with sneakers and colorful socks or espadrilles for a more refined effect.